Highland Council expresses concern over MFN4's draft net zero benchmarks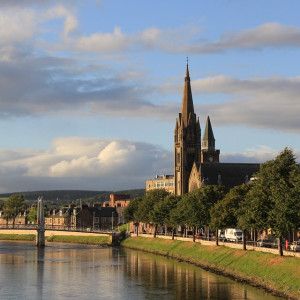 Councilors in the Highlands have expressed concern that the Scottish Government's new national planning strategy and policies may fall short of meeting the region's regional priorities and delivering Scotland's transition to net zero.
At a meeting of members of Highland Council's Economy and Infrastructure Committee, members took the opportunity to discuss the council's emerging response to the Scottish Government's draft National Planning Framework 4 (NPF4) , currently in consultation until March 31.
NPF4 will be a long-term plan that will guide spatial development, define national planning policies, designate national developments and highlight regional spatial priorities. It will also play a key role in supporting economic recovery from the coronavirus pandemic and addressing the climate and ecological emergency.
Committee members and council planners see this as a vital opportunity to raise Highland's profile and recognize the unique strengths and resources of the region and the ongoing contribution this will make to national outcomes.
This follows the council's development of its ambitious 30-year vision to inform the preparation of NPF4 in 2020 and 2021, including Highland's indicative regional spatial strategy.
Councilor Trish Robertson, chair of the committee, highlighted the importance that NPF4 will play, but also pointed out that the report discussed by the committee raised a number of significant concerns with the current draft.
She said: "This is a huge opportunity to build on our strengths and support our journey to net zero, but it seems to be very biased towards urban areas of the country and as a result the huge amount of work already in progress in many parts of the Highlands is not captured. This means that exciting growth potential and opportunities will not be accurately captured and large geographies and many of our most remote communities will be missed.
Concerns raised by officers featured in the report that members discussed include:
A lack of clarity on how priorities for Scottish rural areas will be addressed, undermining the national rural repopulation ambition.
A significant understatement of Highland's integral role in the national space strategy, including its continued contribution to the national transition to net zero.
Visually, one gets the impression that the draft NPF4 is biased towards the more urban areas of Scotland and leaves the rural and urban areas of the Highlands in a less certain and less supported position, for example with regard to the fight against inequalities in access to services.
Although elements of the National Spatial Strategy are supported, there is less evidence that the indicative Highland Regional Spatial Strategy shaped it.
An online member workshop focused on the NPF4 project, to which all board members have been invited, will be held on February 25.
Combined with the council's review, the results of the workshop will inform officers on how to develop, complement, refine and finalize the council's response to the Scottish Government.