Knockbain Farm near Dingwall receives Woodland Award at Royal Highland Show 2022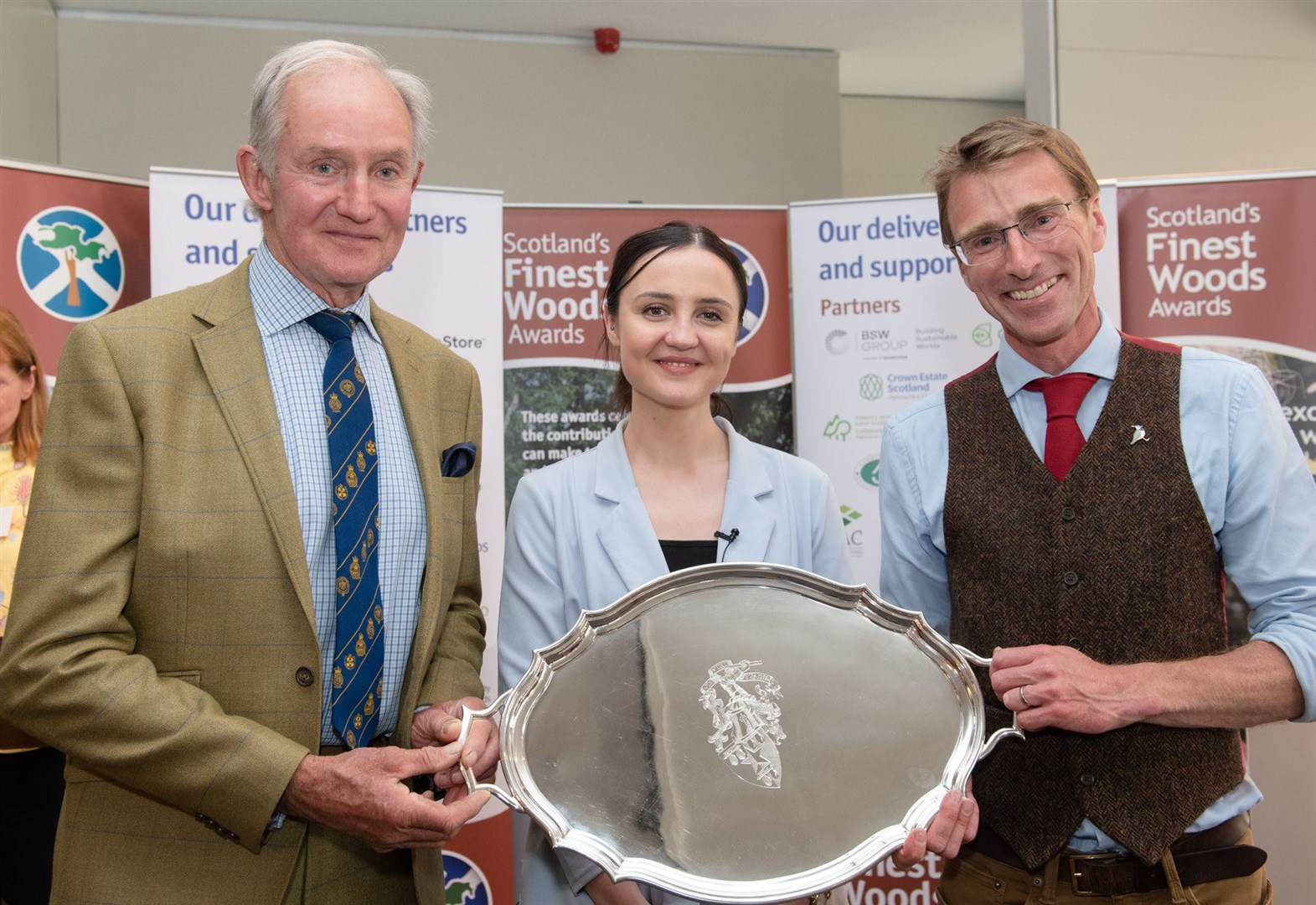 A ROSS-SHIRE farm won the winner's trophy at the 'Tree Oscars' presented at the Royal Highland Show last week.
Knockbain Farm, based in Dingwall, was co-winner of the Farm Woodlands award at Scotland's Finest Woods Awards 2022.
The farm, which is run by the Lockett family, was praised for the excellent livestock shelter and wildlife habitat provided by the trees.
The judges also reported: "The farmhouse is also exceptional in its connection to the local community in the nearby town of Dingwall, with the woods providing very good walking paths and cycling facilities."
Richard Lockett, who also runs his own land management consultancy business, was delighted to receive the accolade: "We have worked hard for many years to increase tree cover on the farm as well as improve our existing forests. Trees on farms are so important. They provide habitats for wildlife, shelter for livestock, improve the landscape and store carbon. For all these reasons, they are an essential part of the agricultural business.
The farm has increased tree cover by 5-20% over the past 40 years and intends to go further.
The new Dingwall Community Woodland planted its first trees in March 2022 with the main planting of 7,000 trees scheduled for early 2023.
Mr Lockett commented: "There has been a lot of enthusiasm for the community forest and we can't wait to get planting work off to a good start.
Màiri McAllan, Minister for the Environment and Land Reform, who presented the awards, said: "Scotland has a strong forest heritage which is admired by many countries and its international reputation for good forest management is well deserved.
"The awards celebrate the achievements and hard work of all those who create and nurture our forests and woodlands, and instill a love of trees in our young people.
"This year, the judges' results shine the spotlight on preschool and school-aged youth, agricultural and community woodlots – and excellence in creating new, productive and native woodlots.
"I want to congratulate all the winners who are keeping Scotland's forests at their best."
Angela Douglas, Executive Director of Scotland's Finest Woods, said: "We are delighted to have such a collection of winners and to be able to honor them in person for the first time since 2019. The large number of excellent entries from schools and The early years scenery was especially lovely, showing that the future of our beautiful forests and beautiful woodlands is clearly in good hands! »
---
Do you want to react to this article ? If yes, click here to submit your thoughts and they may be published in print.
---